I will make your Instagram FAMOUS
(1464)
10 Orders in Queue
Great Stuff!! Thank You
Reviewed by mahnetwork 1 day ago
Thanks!
Reviewed by jamyan 10 days ago
Full Screen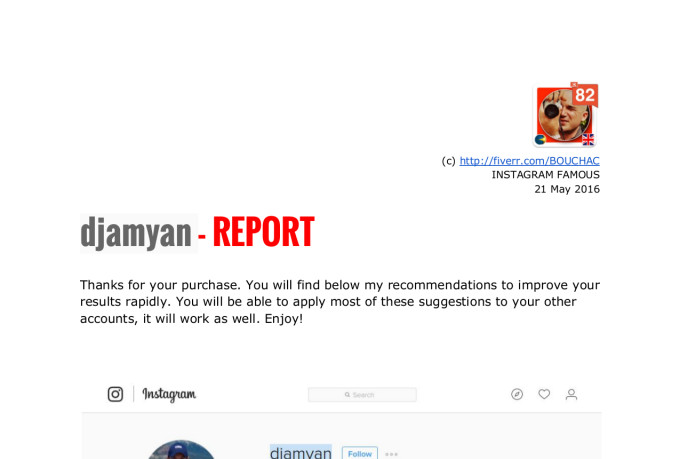 great seller
Reviewed by dropdeadk 11 days ago
Outstanding Experience!
Reviewed by mat_withone_t 12 days ago
Thank you very much, The Guide is very helpful
Reviewed by zebraexpress 14 days ago
great tips, thanks!
Reviewed by joker69 14 days ago
perfect seller, great work and vey supportive.
Reviewed by proto1 about 4 hours ago
Top ++
Reviewed by xelvenzu 15 days ago
LEVEL 2 SELLER - TOP RATING
100% satisfaction & money back guaranteed
Are you struggling with getting
FOLLOWERS, LIKES
and
COMMENTS on Instagram
and don't know where to start?
With
over 2 Million likes, 100k+ comments and 100k+ followers on my accounts
and
THOUSANDS of happy Fiverr customers
, I believe I am the right person for you!
For $5, I will look at your I N S T A G R A M and offer
at least 3 suggestions
on how you can
dramatically improve your RESULTS
.
This GIG is seriously changing the game for anyone, no matter what your niche or age is.
Stop WISHING, start DOING!
Click the green button >>> ORDER NOW !<<<


!!! Gig extras available !!!
★
$20 FULL EVALUATION

I will look at your IG and provide ALL suggestions on how to improve it for better exposure. You will receive a custom tailored PDF report highlighting the good and bad aspects of your account and uncovering my
powerful resources
that you can
immediately use too!


★
$40 Blog Promo
Promote your business on my HIGH Traffic blog [300k+ visits/month] - ask for URL
Look at my Fiverr bio and ratings to see how I've helped others.

3 suggestions on how you can dramatically improve your RESULTS.
7 days delivery