Looks Like This Service Is On Hold
I will give traffic from social media email promotion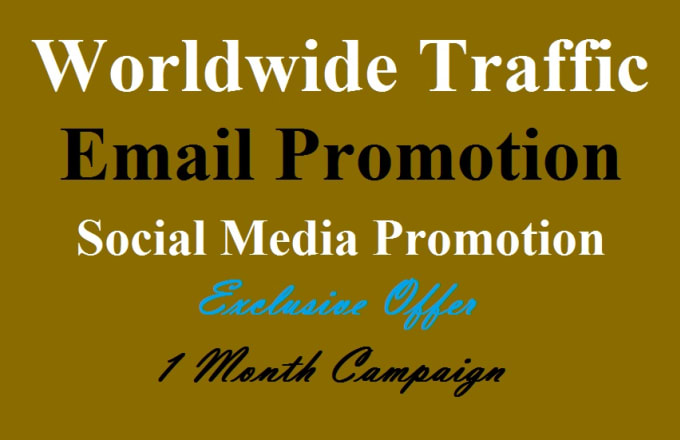 Full Screen
Full Screen
We will do following Services in $5 ..... EXCLUSIVE OFFER!!
You will get >
1
Worldwide traffic for 30 days > up to 2000-5000 from social media, search engine, Advertising network
2
Submission of your message/link to 5.1 million worldwide email-recipients. All are consumers, Business recipients.
3
Post your message/url to over 55000+ twitter followers
One of the most effective online marketing method. Increase and sustain awareness of your brand/company. Over half of internet users check or send emails. This is a great opportunity to show your offer/message/link to REAL people.
Guaranteed Visitors/Clicks >> Total 20000+

Around the world visitors!
Real and unique
Increase in sales and exposure!!
Very Cheap service
Best quality traffic
Secure flow of visitors!
Safe from all online updates
Increase in search ranking
Completion Report
I will give you screenshot of message sent, posting to followers.

Tracking url to check visitors.

About The Seller
FromIndia
Member sinceJun 2013
Avg. response time3 hours
Last delivery1 day
Get traffic to your website/products/services. Real Worldwide Traffic from Email-Promotion, Social Media, Search Engine, Marketing Network.
Rating Breakdown
Seller communication level

4.9

Recommend to a friend

4.9

Service as described

4.9
amitos11

Israel

|

donnajones317

United States

Seller did great job. No results yet, but very happy with clicks so far.

|

livelongbebless

Qatar

I need this gig to promote an online store, goal achieved as always.

|

stavroula45

Greece

Seller promote my link exactly how we had arranged and i am pleased on this.And yes ,for sure I will again buy this gig. To be honest i thought this would be a scam like other gigs(from other sellers) that I have experienced in Fiverr but I am happy I was wrong.Thank you for good work and bonus.

|

idan_indigoil

Israel

|