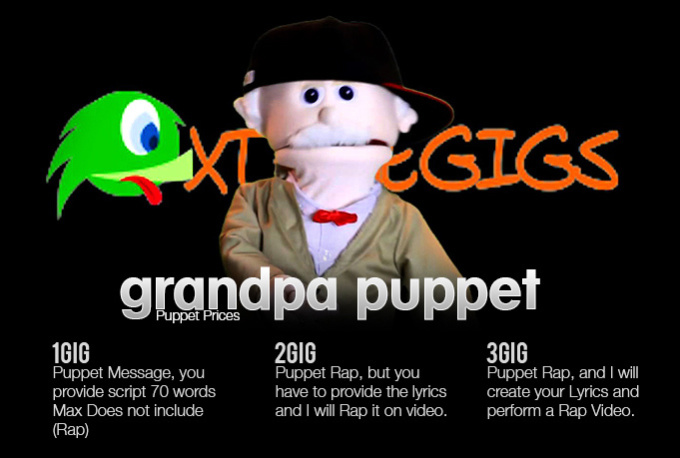 I love it...
Reviewed by brianinman 19 days ago
Outstanding Experience!
Reviewed by jmirlisena about 2 months ago
I love it ! Thank you so much, very cool and super fast service. The perfect Xmas message.
Reviewed by emilythorpe 3 months ago
Awesome! Thanks for telling our flip books story, grandpa :) http//www.flippies.com
Reviewed by flippies 5 months ago
Will do business with this guy. Amazing results. Anytime! Thanks.
Reviewed by tapedupe 6 months ago
Awesome Job!!!!
Reviewed by markayers 7 months ago
Spectacular. Granda puppet is da bomb!
Reviewed by dsolomon 9 months ago
Thumbs up
Reviewed by vonnied 10 months ago
Incredible! You're a rapping genius Grandpa Puppet - Many thanks yo'!
Reviewed by liambrownwriter 12 months ago
great stuff :P
Reviewed by jagarock about 1 year ago
The puppet could have had more time trying to fit the rap with the music
Reviewed by carriemckin1 about 1 year ago
Awesome work!! :D :D :D
Reviewed by cyberteddy about 1 year ago
GREAT JOB. DID EXACTLY WHAT I WANTED. WE WILL DO MORE. FOLLOWED MY DIRECTION AND PROMPT.
Reviewed by markkodish about 1 year ago
Excellent work, Thanks very much!
Reviewed by bnelson220 about 1 year ago
Great job! Definitely recommended. Very funny.
Reviewed by aed343 about 1 year ago
Poor Pronunciation
Reviewed by jmcdougall17 about 1 year ago
Can't say enough about how perfect it came out - thank you
Reviewed by ianccc about 1 year ago
Hell yea! i'll take it. Thank you. #Blessings
Reviewed by kayohh1 over 1 year ago
Absolutely amazing. Would 100% use again. Brilliant rap. Quick turnaround. The Grandpa is AWESOME. Thanks
Reviewed by tamarack over 1 year ago
Great job!
Reviewed by printingworld over 1 year ago