I will design a PROFESSIONAL Facebook Fanpage Timeline Cover Photo for $5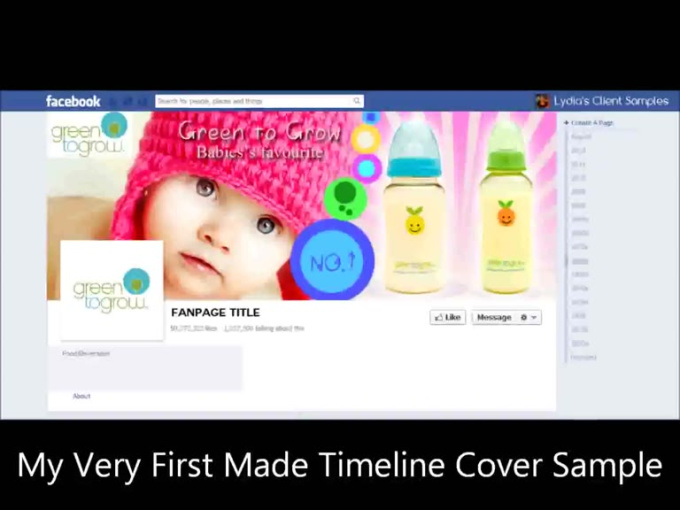 Outstanding Experience!
Reviewed by jonnatodd about 14 hours ago
Thanks this will work much better. Quick service.
Reviewed by herbie54 1 day ago
Great Job! Fast Delivery! A+++ Will buy again!
Reviewed by unlockriver 2 days ago
If you are looking for a quick turnaround this is not the gig provider to use. It took much longer than the original order claimed at 2 days as posted on this gig vendor profile.
Reviewed by alkirsch 2 days ago
Gorgeous! Quick and professional.
Reviewed by ahcolema 5 days ago
Once again lydiachai did a great job!
Reviewed by martinweiner27 6 days ago
I am delighted by this work by lydiachai! My Facebook cover image is outstanding and she has promised to use this as the basis for Twitter, Youtube and Google+ My brand has a consistent image and you will, too, when you gig with lydiachai!
Reviewed by helices 7 days ago
delivered an excellent project before the promised date. Great communication during the project.
Reviewed by bsauls3 7 days ago
lydiachai's work exceeded my expectations. I am so pleased with her work. I would highly recommend her
Reviewed by martinweiner27 8 days ago
Awesome job.. Thanks
Reviewed by charlieforce 11 days ago
Outstanding Experience!
Reviewed by jacqueline1964 13 days ago
I had a VERY GOOD EXPERIENCE working with LYDIA. She is a VERY GOOD DESIGNER and she DELIVERS a GOOD PRODUCT and ON TIME. I will be using her services AGAIN and AGAIN!
Reviewed by jimihurst58 15 days ago
That's fantastic design, it's so beautiful
Reviewed by trieunhat 17 days ago
Sent in my request, asked her to use her skill/judgment to create a simple professional look and she nailed it on the first try. Thanks!!
Reviewed by threemg06 18 days ago
Outstanding Experience!
Reviewed by kravmagaspartan 19 days ago
Outstanding Experience!
Reviewed by erincorcoran 20 days ago
Fantastic seller! Amazing communication and excellent finished product. I'm crazy happy with her work, will definitely use again for any work I need.
Reviewed by mattlazenby 20 days ago
Wow you've done an amazing job. Thanks so much.
Reviewed by jscoulou 21 days ago
This Provider did an excellent job with our Facebook Timeline. She made the necessary changes as we requested and did all the work in a very timely and professional manner. I highly recommend this Provider and will be using again.
Reviewed by jthathorn 17 days ago
Lydiachai did an incredible job on my project. It was delivered ahead of schedule and it looks great!! Thanks!!!
Reviewed by tshappie51 24 days ago