I will design a PROFESSIONAL Facebook Fanpage Timeline Cover Photo for $5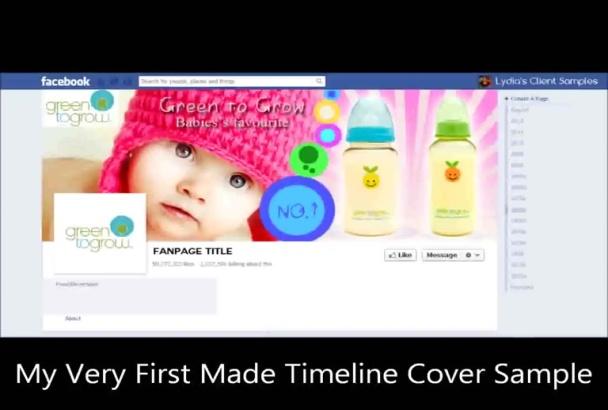 Great Work!
Reviewed by cheadleman 18 days ago
Good Experience!
Reviewed by coachjazzie 18 days ago
Hi Lydia Chai: Awesome job, really I like it. I appreciate your effort doing me job. Please continue with the others cover. Best Regards William
Reviewed by bidu1711 18 days ago
Great design, thank you!
Reviewed by jessbrito 20 days ago
Lydia did a great job. She took my simple requests and designed them into a Facebook banner even better than I expected. Very happy with the result! Thanks!
Reviewed by kim429 20 days ago
Great job.
Reviewed by mobeatblues 21 days ago
Excellent fast and as described... highly recommended AAA+++
Reviewed by gulfwarranties 23 days ago
Outstanding Experience!
Reviewed by run4fun143 23 days ago
We have worked with Lydia before- she is wonderful!!!!! :) This project was difficult because WE didn't really know what we were looking for. Just something new. Lydia came to the rescue!!! Her creativity SAVED THE DAY!!!!!! Thank you Lydia- YOU ROCK!!!!! Highly recommend her- she gets a 10+!!!!
Reviewed by kendallintheblu 23 days ago
Amazing Quality and Work!!!
Reviewed by cheadleman 24 days ago
Outstanding Experience!
Reviewed by kerrym35 23 days ago
amazing-prompt-professional-talented-going to hire again!
Reviewed by bpniche 24 days ago
I have worked with this person a number of times now and the product is always great.
Reviewed by lukepayten 19 days ago
One word, Fantastic!!!
Reviewed by msboxingworld 22 days ago
Great Job Thanks.
Reviewed by httraj 25 days ago
Thank you great Job will use again
Reviewed by seancarter576 26 days ago
I absolutely love it! She took into consideration the profile picture area and the name area and made sure those spaces were open and not covering up a photo. Perfect! Thank you!!
Reviewed by sararajewski 26 days ago
This is the 2nd time I used Lydiachai and again she delivered beyond my expectations. This is why I will continue to used her for future gigs.
Reviewed by bsauls3 27 days ago
Outstanding Experience!
Reviewed by k_blake 28 days ago
Satisfactory Experience
Reviewed by kathylam2015 29 days ago