I will design a PROFESSIONAL Facebook Fanpage Timeline Cover Photo for $5 in

Social Media Design
17 Orders in queue
8 Days On Average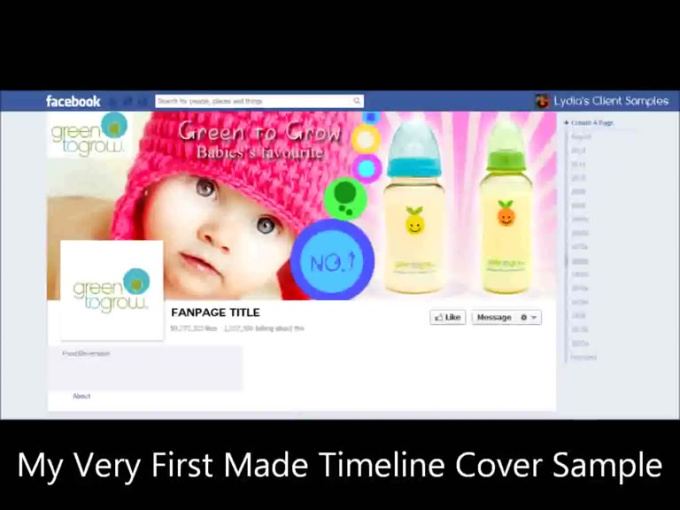 Great experience with this seller. She made suggestions on content before completing the job and I was able to make changes to my initial requests. Fulfilled order excellently!
Reviewed by dreedkelly about 6 hours ago
Good Job Thanks :)
Reviewed by shebar2365 2 days ago
on time and very happy with the results
Reviewed by smprops about 24 hours ago
Thanks. Looks professional and cool.
Reviewed by herbie54 3 days ago
Outstanding Experience!
Reviewed by pritchardminist 2 days ago
This is the fifth job I've asked of Lydia and she has delivered 100% quality every single time. I will continue to use her services and rely on her expertise.
Reviewed by peggytharpe 5 days ago
My 2nd order and its really an awesome experience! Exactly what I want. Thank you!!
Reviewed by sunshine888 6 days ago
Awesome work Lydia, thanks so much. Will order again soon.
Reviewed by fivenam 3 days ago
Thanks again Lydia. I know when the need arises and I know it will you are definitely on the top of my list. Les G
Reviewed by lesgayjr 6 days ago
I am so pleased with my Facebook Fan page Cover Photo!! You went over and beyond my expectations. Thank you so very much!!
Reviewed by skincolor2000 7 days ago
5+ Star & more !!!
Reviewed by markad 8 days ago
awesome job
Reviewed by islandbeachllc 10 days ago
Amazing high quality work as usual. Thanks for all your help!
Reviewed by t2edward 11 days ago
Higly recommending this professional seller. She was able to read my mind and produce style I wanted. Easy to communicate with her cos she was ready to guide me. Would buy again from her. Thanks a lot
Reviewed by magictouch15 14 days ago
Amazing work, I would recommend her to anyone who is looking to get a job well done. Will definitely order again.
Reviewed by brwere 15 days ago
Easy to communicate with fast responses. Very satisfied with finished product.
Reviewed by yoshtara 16 days ago
Poor Experience
Reviewed by smallbizlady 17 days ago
Lydia is absolutely phenomenal. Her creativity is awesome. I have ordered several gigs from her and I will continue to use her as a graphic designer. I have never been disappointed with her work. :)
Reviewed by ericagoodridge 19 days ago
Outstanding Experience!
Reviewed by gooseontherocks 19 days ago
Lydia, was exactly what we were looking for! She delivered on time, communication was excellent! 100% satisfied and will be back. Thanks, again Lydia!!
Reviewed by lexiskreationz 20 days ago