I will design professional book or ebook cover
Full Screen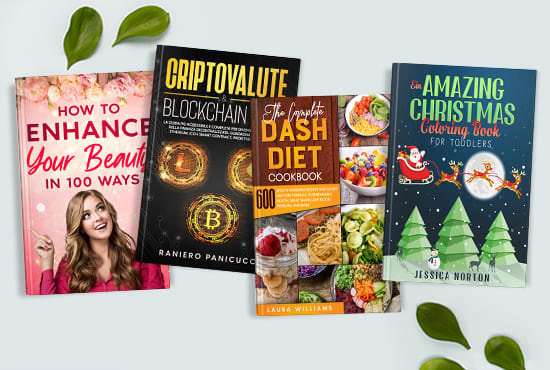 Full Screen
What people loved about this seller
creativefable

United Kingdom
This was my first time buying a cover design through Fiverr (previously I've used 99Designs and approached artists directly on DA). Because I'm trying my hand in writing in a new genre with a new pen name, Olivia was a perfect designer for a trilogy test run. She was very clear in her communications, polite, and a joy to work with. She asks for sample covers to understand the type of style you're after and works with stock images you choose from Pixabay and Deposit Photos. I picked the basic gig, so photomanipulation wasn't an option unless I upgraded (which she was politely upfront about, and which I chose not to do). Wonderful experience - I'd definitely work with Olivia again!
"GREAT DEAL AVAILABLE HERE FOR FICTION AND NON-FICTION COVERS"
Increase sales and clicks, capture the reader's attention with professional cover design.
Let's use my design experience and creative skills to dress your book up!
YOU GET:
● My whole attention and support from start to finish
● Professional design for your book cover
● Unlimited free revisions (during the order is in progress)
● Free basic 3D image for promotion (PNG or JPG formats)
● 100% MONEY-BACK GUARANTEE
Choose the package that suits your needs OR contact me in the inbox so I can do my magic!
P.S. If you feel that your cover is beyond my packages, simply drop me a message, and we'll discuss it in detail.
Entrust me the cover design for your book. You'll love it!
Warm regards, your Olivia
Design Style

Genre

Business
Cookbooks / Recipes
Fantasy
Marketing
Romance

File Format
About The Seller
FromUkraine
Member sinceFeb 2017
Avg. response time2 hours
Last deliveryabout 12 hours
Hi, my name is Olivia, and I'm a professional graphic designer. I have more than five years of experience in book cover creating. So if you're looking for an exceptional design and fresh look, I'm all my ears. Let's make the perfect cover for your book together!
FAQ
What information should I provide when I order?
I require a few important details: title, subtitle, author name, a synopsis of what your story is about, cover size (number of pages, paper type, size of the front cover), cover type (paperback or hardcover), the platform you'll use for publishing.
Will I have all the commercial rights to the cover?
All rights that I can assign as a designer are transferred to you after the purchase.
What is the difference between the packages?
The Basic package includes an ebook cover design using 1 stock image. The Standard package includes the full cover (a print-ready version) using up to 2 pictures. The Premium package includes the usage of up to 3 images for the full cover design as well as the source file.
Do I need the source file? What is it?
The source file is an original editable file. It will help you to edit the cover on your own using Adobe Photoshop.
When do I get the cover without the watermark?
The watermark should disappear after the order confirmation.
Can I add the text to the spine?
I can place the text on the spine if the book has more than 100 pages. Otherwise, the cover might be rejected while uploading to the platform.
Can I supply my picture for creating the design? Is the price lower in this case?
I can use your images if you have the rights to their usage. The design price depends on the number of all used pictures (as the cost is affected not only by purchasing stock images but also by the time and effort for blending them).
Should I send you the examples of the covers I like?
I will highly appreciate it if you share any samples of the designs appealing to you as it'll help me meet your expectations.
| | | |
| --- | --- | --- |
| | | (12,526) |
| | | (409) |
| | | (79) |
| | | (37) |
| | | (28) |
Rating Breakdown
Seller communication level

4.9

Recommend to a friend

4.9

Service as described

4.9
creativefable

United Kingdom

This was my first time buying a cover design through Fiverr (previously I've used 99Designs and approached artists directly on DA). Because I'm trying my hand in writing in a new genre with a new pen name, Olivia was a perfect designer for a trilogy test run. She was very clear in her communications, polite, and a joy to work with. She asks for sample covers to understand the type of style you're after and works with stock images you choose from Pixabay and Deposit Photos. I picked the basic gig, so photomanipulation wasn't an option unless I upgraded (which she was politely upfront about, and which I chose not to do). Wonderful experience - I'd definitely work with Olivia again!

|

phil_e_peens

Philippines

Just wow! This was my first time working with Olivia, and I'm just over the moon at how accurately she has interpreted my job brief. More so, how she has seen into, around and beyond my vision for this cover. I was concerned about how the primary image would blend out into the [open space] of the cover, but Olivia has taken the bull by the horns and worked some pretty cool magic with respect to this. I was also impressed with her request for some examples of book covers - mine or anyone else's - which appeal to me so as to get a feel for the direction she should explore in order to meet what I was after with this job. Nailed it 100%, Olivia. Awesome stuff. I highly recommend this seller.

|

smaragh

United States

The seller was willing to change the photo and fonts numerous times which I am grateful for. She did not complain or make me feel like I was bother for the constant changes that I was making. I love the professionalism of my cover. The returns were a bit longer than expected but I understand I was not the only customer she had. It is my favorite cover out of the three that I made with other designers and I love what was done. She is working it out me with in terms of sizing since this is my first book and I really appreciate it. I will definitely work with her again for future book covers.

|

appollonius

United States

The positives: 1. She is very pleasant. 2. She is helpful...when my first cover submission wouldn't work, she provided a source for replacement covers on her own initiative. The negatives: 1. She is very slow with her revisions. Even after my project was completed, it still took her 3 days to send it to me. 2. She doesn't always pay attention. I had to tell her twice about 3 different changes that needed to be made.

|

nicole_crenshaw

United States

love it! I still have 16 books I need done. I will start thinking of ideas fir book 3. Can't wait to see the rest of the books come to life. Thank you!!!

|