I will make a professional HQ music jingle
(17)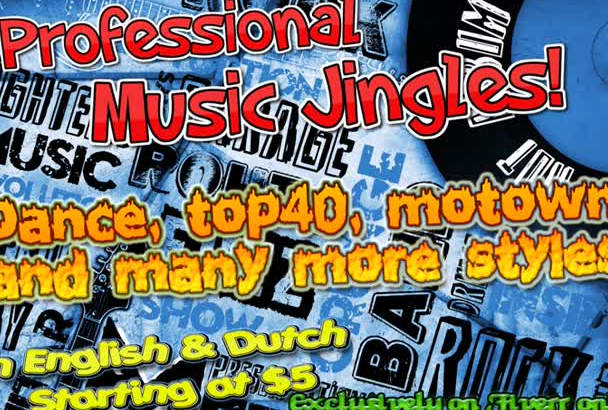 I was looking for some phrases spoken to use in my DJ sets and this is just what I needed. Good quality and above mega kudos for the fact that the seller actually had to go to hospital, but still delivered in time. Not only dedicated but very professional.
Reviewed by rrrichiexl about 1 month ago
Need a professional music jingle?
We create jingles sinds 2009 and with more than 10.000 jingles made, we know how to make it just the way you like!

The basic gig is only the voice over.
if you want music mixed instead like our demo the price will be two times the basic gig ( $10 )
Please note: if you already have your own voice-overs we can use them also!! you will save $5 per jingle.

✰✰✰ We want you to be 200% satisfied ✰✰✰

✔︎ No extra money needed to get the WOW effect like others do.
✔︎ All our audio is free to use anywhere
✔︎ Our music is up2date.

We create top40, chart,pop,dance,r&b and golden oldies mixes
for all your jingles.
Still not sure how it works? Contact prior if you have any questions or information needed.


Hope to see you soon!