I will puppet any message you want in a video for $5 in

Puppets
6 Orders in queue
5 Days On Average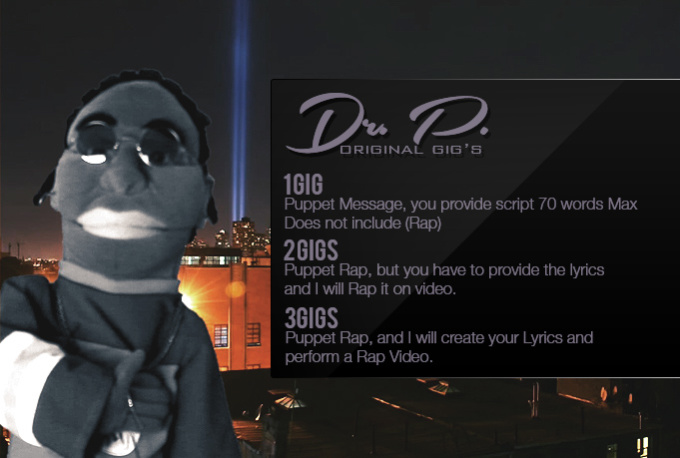 Thanks Charles great stuff!
Reviewed by emannoia 5 days ago
My girlfriend loved her birthday puppet video.
Reviewed by bencharlton 1 day ago
Love it! Thank you
Reviewed by rustyhumph 7 days ago
Fantastic service. Will use again. Thanks.
Reviewed by proaudio 10 days ago
Thanks for the quick turnaround. Hope to work together again.
Reviewed by heydarian 13 days ago
Great fiverr gig. Well done. Thanks
Reviewed by euantaylor 8 days ago
AMAZING! Everything was perfect. Thank-you so much!
Reviewed by ollie2784 14 days ago
Super fast and easy. Got just what I ordered and can't wait to share it across all our online channels!
Reviewed by modernmouse 14 days ago
Excellent communications and great video. Will add a lot to my website, thanks!
Reviewed by inthegroove 22 days ago
fantastic work!
Reviewed by gordonchevrolet 28 days ago
Perfect and quick!
Reviewed by chinboston about 1 month ago
Good Experience!
Reviewed by revemedia 18 days ago
Perfect Job, thanks for making all the corrections I asked for. Will use you again. Great Job!
Reviewed by adams6969 about 1 month ago
Outstanding Experience!
Reviewed by foxmusicmgmt about 2 months ago
Amazing! Thank you so much! :)
Reviewed by garyp360 about 2 months ago
cheers mate nice work
Reviewed by isellvape about 2 months ago
WOW! This is great! Everyone loves my video! Thanks a lot for your service!
Reviewed by lhubbar1 2 months ago
All good! Nice job!
Reviewed by daxsen 2 months ago
Professional, courteous, and exceptional service. Great experience from a talented artist. Great work and I will use your services again.
Reviewed by lyroughn 2 months ago
Phenomenal!
Reviewed by kbarnicle 3 months ago
FREE 24 HOUR DELIVERY MONDAY-THURSDAY

Dr. Puppet West Coast Rap Star, will Puppet your Message for your Website, Business, Friend, Family, Anything! Up to 150 words, All for just $5! On the other hand, if you would like a Rap Music Video, just check out the Gig Extra's.
-Include up to 5 Photos or Logos in your video (Free of Charge)
-Add your URL to the bottom of the video (Free of Charge)
-Free Background Selection (40+ Backdrops)

-Free Costume Change (40+ Props)
-All audio is Professionally Mixed & Mastered
-All videos are delivered in 1920 x 1080 HD
The default beat/Instrumental is the same as the Demo Video. If you would like to use another beat, please send a link to the instrumental from Youtube, or upload the instrumental through Fiverr.
If you provide your own lyrics: 75-150 words
Max!Additional Services:
goo.gl/bQGBwu


Background Selection: (Default Background - Black)
goo.gl/QpktFn
Costume/ Prop Selection:
(Default Clothing - Same as Demo Video)
goo.gl/FE8HXp
INSTRUCTIONS:
If you purchase any "Create your lyrics for you" Gig Extra's; provide (4) One Sentenced bullet points, per 30 second act. Please NO Paragraphs!