I will make your loved ones a super human extra ordinary hero/heroine for $5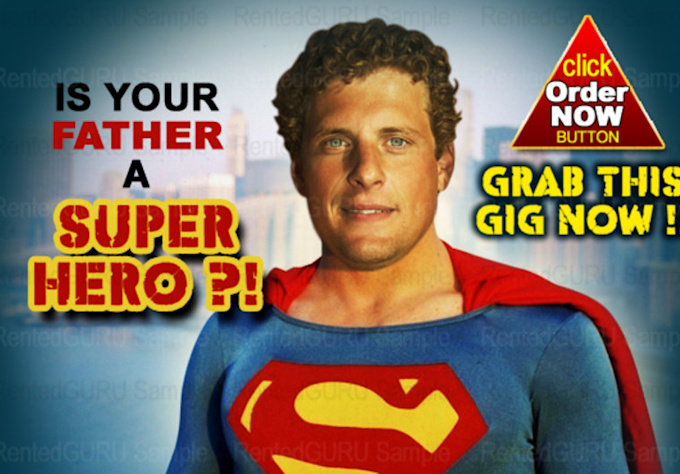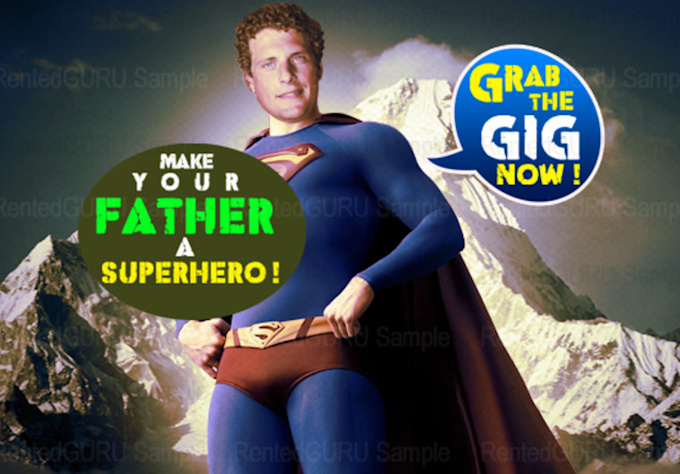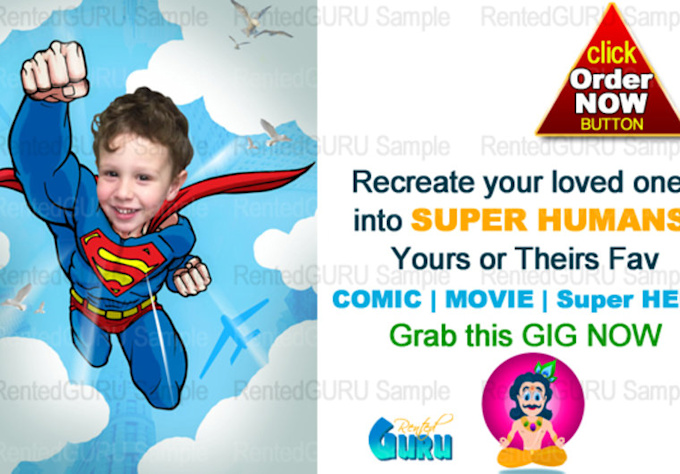 Thank you! You have made me the "Best Grandmother Ever!! A wonderful job even with the picture I gave you. I would recommend you to anyone.
Reviewed by reallyregal about 2 years ago
It's PERFECT! I love it!
Reviewed by aslapa over 2 years ago
Fantastic! High quality photo and he really looks like HE is Superman, not just a pic posted over another face. Excellent communication and prompt service. This is a top notch seller. Highly recommend!
Reviewed by thegoodkelly over 2 years ago
Long delivery and did not follow instruction
Reviewed by morrisv over 2 years ago
Very satisfactory! Thank you for doing a great job!
Reviewed by drhealing over 2 years ago
nice
Reviewed by tiffanydoneal over 2 years ago
It is perfect! He will love it!! Merry Christmas!!
Reviewed by mamajelly over 2 years ago
+++ReCreate your Loved ONES AS SUPER HERO-HEROINES !!!+++ whether it is PHANTOM,SUPERMAN,SPIDERMAN,CATWOMAN,HULK,THOR,GREEN LANTERN,WONDER WOMAN,SUPER GIRL,BATGIRL,MANDRAKE, Captain AMERICA,LARA CROFT,MAX PAYNE or HIT MAN.....I will proudly recreate the UNIQUE SUPERHERO/HEROINE PIC...... :) Reveal their Larger than Life SIDE to the WORLD :) Grab this gig now........! and awstruck your relatives by STUNNING SUPERHERO IMAGERY. Whether Its you or ur FATHER,MOM,SISTER,WIFE,HUSBAND,UNCLE,AUNT or any LOVED 1, We can make them SUPERHUMAN'S :) Dare to be ONE :) +++++Warning :- We deliver extremely invincible GRAPHICS buy it only if you can HANDLE IT :)+++++ ++++Note :- Please Talk to us via messages before placing orders,Doing so will save your Time and Money,It will help us in Knowing what exactly is Wanted or expected from us.+++++