I will create an extremely PROFESSIONAL Craigslist Ad for $5 in

Flyers & Posters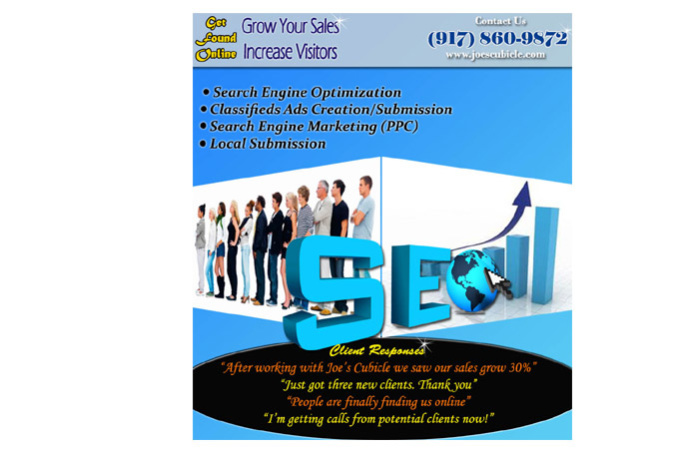 quick turnaround and no edits needed.
Reviewed by cindybeadles about 1 month ago
BEST OF THE BEST
Reviewed by mccormickrd 21 days ago
A+ GREAT JOB LOVE MY AD THANKS:)
Reviewed by dreamfactory about 2 months ago
excellent work, we will do business again
Reviewed by icarusgroup about 2 months ago
Great Product!
Reviewed by derevyan 3 months ago
that looks awesome! thank you! Great Gig
Reviewed by parallelinnovat 3 months ago
Awesome work, 5 Stars, Thanks a Million...
Reviewed by payjug 3 months ago
terrific work The work is exactly what I ordered and the quality is way beyond my expectations Thanks very much Stan B.
Reviewed by stanleybostick 4 months ago
Great job. Exactly what I wanted. Thank you.
Reviewed by healthinsurance 4 months ago
Very fast and professional
Reviewed by goldnhands12 4 months ago
Great Job I got more than what I had expected for the money. Very happy with the experience.
Reviewed by stanleybostick 4 months ago
Excellent!
Reviewed by prattella7 5 months ago
Excellent as always! Thank you again Sapien - highly recommended!
Reviewed by geoffreyg 5 months ago
AWESOMELY AMAZING WORK as always! Thank you so much Sapien - I'll will order again and again!
Reviewed by geoffreyg 6 months ago
GREAT BUY!!!!! AWESOME COMMUNICATION AND FAST RESULTS, BETTER THAN EXPECTED!!!!
Reviewed by tiffanthony 8 months ago
Great Work.
Reviewed by santos301 7 months ago
Wow - Amazing work as always Sapien! Thank you again for all your help!
Reviewed by geoffreyg 9 months ago
Thank you for the ad and making the changes! Nice job
Reviewed by robertlam 10 months ago
Very professional guy to work with thanks!!
Reviewed by soundcloudpromo 11 months ago
Our e-Brochure is finished. Thanks for all your hard work. I like that I can rely on your creativity to come up with a really awesome design with very minimal instructions. Thanks!
Reviewed by iproglenn 11 months ago
I will create one craigslist ad for $5. I will do this in high quality and do professional work. If you want some eye catching stuff then order my gig.