I will pro Voice Over in 24 hours for $5
Modifications Included
in Voice-overs
1 Days On Average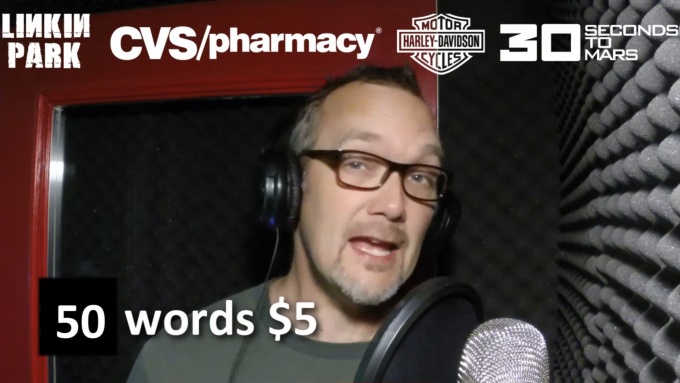 Every time I get a file from him its outstanding. This kind of quality makes our products stand out. Seriously, when was the last time you contracted someone to do something, paid them and were so pleased with the outcome you wanted to take them to lunch... Don't choose anyone else this is awesome!
Reviewed by uppercasecs 1 day ago
Thank you! excellent job!!
Reviewed by dfharrison 1 day ago
Good Experience!
Reviewed by mlondo1 2 days ago
Outstanding Experience!
Reviewed by sixmileshore about 7 hours ago
Quick delivery of gig. I would recommend Soul Man Pro.
Reviewed by dfuller8 3 days ago
Great work!
Reviewed by sunnydt 5 days ago
Very professional services offered. I'll be back for more. He delivered, and in a fashionable time frame. I'm big on communication, and there was no problem on his end. Pretty straight forward as to what he is asking for when it comes to the direction he needed. Nailed it! Thanks again! A+ Service
Reviewed by lukecollier913 5 days ago
He says there are unlimited revisions but unless you provide an "exact" audio example of tone, speed, punctuation etc he will charge you again. The 1st recording was like he recorded it knowing that I would want it redone. He squabbles and wants you to pay for every little thing.
Reviewed by flatrategroup 4 days ago
He is the ultimate professional. Hire him Always!
Reviewed by mummidoo 8 days ago
Awesome job - great gig!
Reviewed by indytmg 9 days ago
Great work, will use again!
Reviewed by chriswalker80 9 days ago
Will always come back. Excellent experience as always
Reviewed by myreconcierge 10 days ago
Great job.
Reviewed by jonvamc 9 days ago
Soulman is legit. Even with some Polish and German folks in our wedding he still nailed the names. You rock. Hire this man.
Reviewed by levib2004 10 days ago
Outstanding Experience!
Reviewed by tclarke1971 2 days ago
Great voice, speedy delivery! Thank you
Reviewed by coopkings 10 days ago
Did a great job
Reviewed by jackpotsoftware 5 days ago
Incredibly fast turn-around time. Excellent work!
Reviewed by myreconcierge 12 days ago
Just awesome.
Reviewed by bryanlflood 10 days ago
Awesome as always. Consistently delivers premium quality talent. Thanks man.
Reviewed by gallywix 12 days ago