I will create any baby or child Name Poster for $5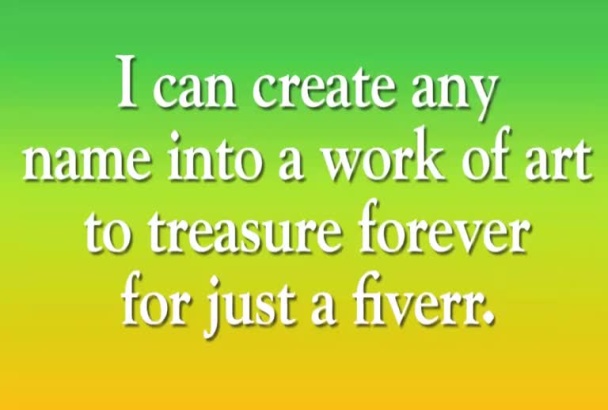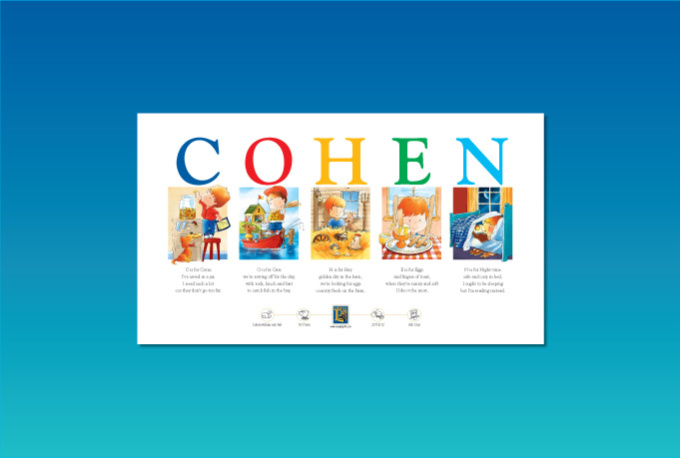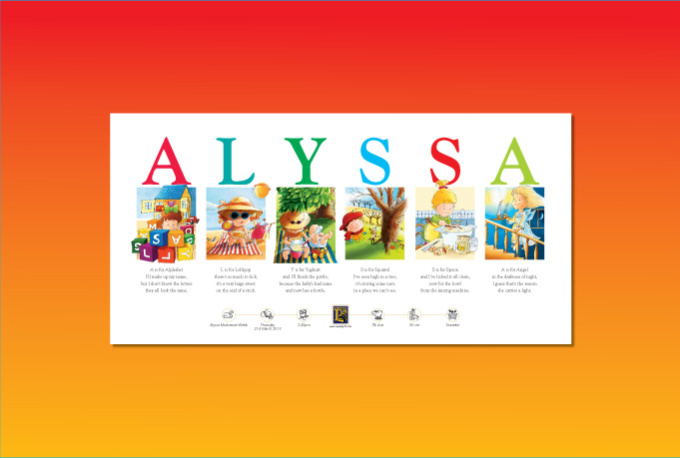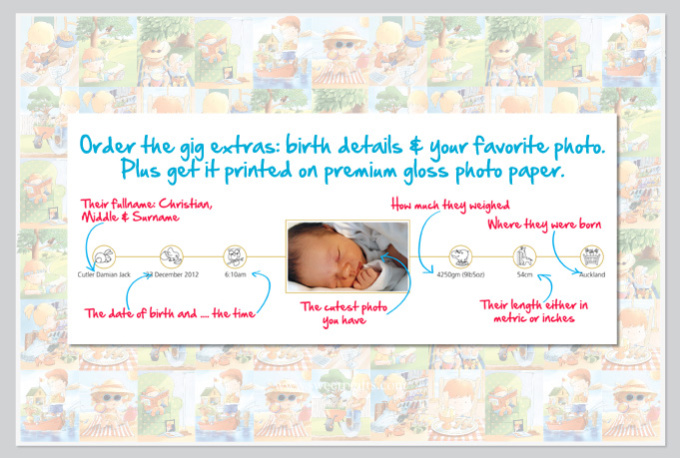 Speedy and special many thanks!!!
Reviewed by truetooneself 7 months ago
Outstanding Experience!
Reviewed by garabato3 8 months ago
Great work!! extra fast and very professional. I will come back soon ;-) Thank you!!!!!!
Reviewed by garabato3 8 months ago
Great work, great communication, cannot fault the seller. thanks. loving it.
Reviewed by akdaniel 7 months ago
Outstanding Experience!
Reviewed by slverwlf 8 months ago
I wanted posters for my two granddaughters, Violet and Charlotte. I got the preview the next day. I asked for a change in colour for Charlotte's, and it was done immediately. The results were marvelous, and the service was professional and very fast. Thanks Greg!
Reviewed by naneinarson 8 months ago
My fourth order in the past year. Every time, I need a gift for a new baby- this is where I come. The recipients love the gift because it is unique, beautiful & meaningful. Seller provides me with multiple files so that I can choose the background I want. Can't believe it is just 5 bucks. Thanks!
Reviewed by perfectpackage 9 months ago
Wow, super FAST and delivered exactly what I was expecting! Job well done! Will certainly recommend to everyone! Can't wait to have this printed! :)
Reviewed by williamslisamar 10 months ago
Very smooth experience. Product as described and seller over delivered. Massive thanks for the additional bonuses, Greg! I look forward to presenting a framed version as a Christmas gift, which my nephew can keep for years to come. I definitely recommend this gig and will promote widely.
Reviewed by plutusplutus 10 months ago
Amazing, I love the personalised child name poster. Fast Delivery I would highly recommend :) Thank you
Reviewed by briar89956 about 1 year ago
Outstanding Experience!
Reviewed by richthomo 12 months ago
Super Fast Delivery and outstanding variety of files types for multiple purposes - love them!
Reviewed by brendagrace about 1 year ago
These are simply delightful and perfect as that quick gift, they print up beautifully on photographic paper and I even used them in a smaller size to make thank you cards for the birth of little Mia.
Reviewed by brendagrace about 1 year ago
Prompt, professional and amazing quality of work. I give my highest recommendation to the seller. Everybody was delighted with the end product!
Reviewed by poleposition about 1 year ago
Wow! This came out so beautiful, what I unique gift for my new nephew. Thank you for my poster and the bonuses. Great Job!
Reviewed by fishwmn over 1 year ago
Very unique gift! Comes exactly as described, seller is extremely quick and east to work with. Highly recommend this as a uniqie gift that will be cherished for years to come.
Reviewed by poleposition over 1 year ago
This gig is amazing. It is my third order. The seller again "over delivered", by providing me with fantastic choices. Appreciate all of your hard work especially over the weekend. May God bless your unique business abundantly. Thanks for offering this gig.
Reviewed by perfectpackage over 1 year ago
Make your child or newborn baby name into a personalized name poster. Provide joy and happiness & educate using colors of the rainbow, with words & pictures that relate back to their name

Children are reminded of when and where they were born and how big (or they were. My NameFrames are a truly imaginative gift idea created 210mm/8.25" high by whatever width it needs to be to fit name.

Print & frame it to enhance any child s room + A lovely addition to your wall of family and baby pictures. Previous customers have even laminated and used as a place matt - ask me how.

3-4 letter names print on standard A4/8.25"x11.7"
5-6 letters print on A3/11.7" x 16.5"
7+ letters can be reduced to fit A3 or get them printed @ large format digital printer like: Wal-Mart.

Please note that I supply print ready HD pdfs that you can print to frame yourself.

OR as a gig xtra I will print for you on Premium Gloss paper with light fast inks post to you or the recipient anywhere in the world

PLUS I will give you BONUS jpegs that you can email or post on facebook or twitter.

Check out my extras: Add Birth Details & Photo
Please Click Collect Button.