I will write and record a 30 second radio commercial including voice and music for $5
in Radio
4 Days On Average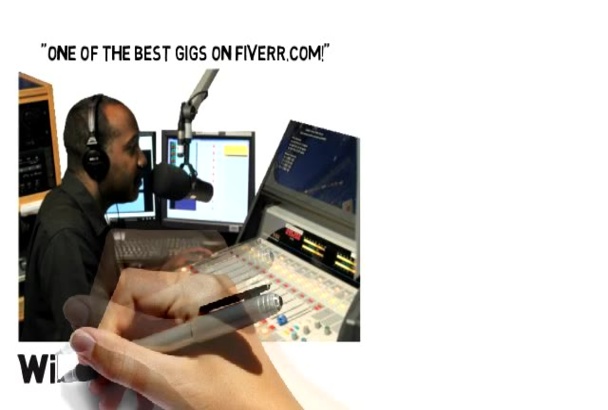 Excellent work
Reviewed by regent2012 2 days ago
Once again wcraig3 has delivered a stunning ad, absolutely fantastic and we will be back for more, thanks again!
Reviewed by bluemoon111 5 days ago
Outstanding!
Reviewed by regent2012 5 days ago
really good, thank you
Reviewed by briancollins 5 days ago
This service is absolutely fantastic and amazing we will be back for so much more better than 5 star wcraig3 is a star, thank you so much.
Reviewed by bluemoon111 9 days ago
William - what can I say? Apart from - Outstanding!!! Ladies and Gents, if you want a great radio commercial this is your man! Thank you for a flawless performance and transaction - it was a pleasure and I look forward to working with you in the future. All the best to you and yours, Greg Ledder :)
Reviewed by gregledder 11 days ago
On behalf of the whole TIcketro.com Team , we are very happy with your service and we are willing to work with you in the future.
Reviewed by ankithanda 10 days ago
On behalf of the Queen of Hearts Community Foundation, thank you very much for a highly professional product and well above expectations. Thanks again
Reviewed by qohchel 14 days ago
Outstanding Experience!
Reviewed by lynncasebooks 17 days ago
Far better than expected. I will definitely be a repeat customer. Thanks!!!!!!
Reviewed by rarcharm 20 days ago
perfect thanks very much
Reviewed by hollycrawn 20 days ago
Love it.. Best on fiverr so far.. i got exactly what i wanted and more. very professional too. Hope to do more business with wcraig3 ,,
Reviewed by mmante 21 days ago
One of the best gigs that I have ever ordered.
Reviewed by pbrodie711 22 days ago
Excellent job - UNBELIEVABLE VALUE!! A+++
Reviewed by hdbilldo 23 days ago
Great work!
Reviewed by mdsupplies 25 days ago
Great Job
Reviewed by yohanranuk 27 days ago
Hello, my name is William Craig, III. Producing radio shows, and commercials is what I do for a living. Since joining Fiverr, I've helped clients on six continents get more traffic and sales, by producing nearly 2,000 commercials! I look forward to working with you, as well!!! PLEASE PLACE EACH ORDER SEPARATELY! By placing your order today, you are taking an important step in protecting the income of your business, organization, ministry, idea, or worthy cause! The fact is, over 90% of your target market listens to the radio on a daily basis...either Internet radio, traditional radio, or both!!! Shouldn't you be heard where your current and potential prospects, clients, and members are listening? The best part about this gig (besides the price) is I do all of the work for you! Once you place your order, I will professionally write your script, record your commercial, and digitally deliver the finished product to you! It's that simple! ***PLEASE NOTE: I do not do commercials promoting Alcohol; Tobacco; Drugs; Psychic; Tarot; Porn; Profanity, Nudity, Adult Content, or Astrology. no exceptions!