I will write and record a 30 second radio commercial including voice and music for $5
(1241)
2 Orders in Queue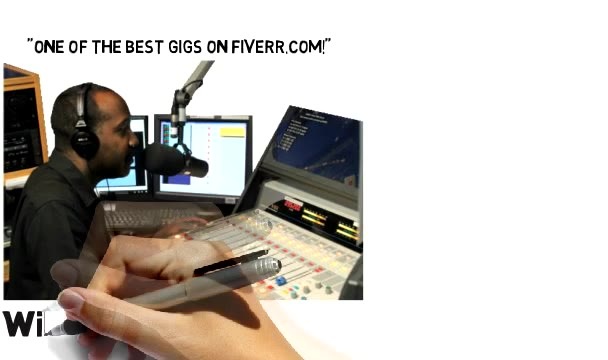 Outstanding Experience!
Reviewed by belltux 5 months ago
My experience was a magical one. We worked together to create the Perfect radio ad. I will definitely use him for more projects and recommend his services to all. I just did a jump in the air freeze frame :)
Reviewed by ntt2kidd 5 months ago
Outstanding Experience!
Reviewed by klazzle 5 months ago
A great Job. Well Done
Reviewed by blifestylegroup 5 months ago
Awesome GIG, I look forward to working with you again. Thank you so much William.
Reviewed by guiltyproject 5 months ago
Excellent Work!
Reviewed by mainattracshun 5 months ago
Great job. Will use again.
Reviewed by melvatate 5 months ago
Awesome job as always - repeat buyer!!
Reviewed by wcarr 5 months ago
Absolutely Amazing. I am very happy with the work that was provided to me.
Reviewed by dmvcharacters 5 months ago
Outstanding Experience!
Reviewed by taadow 5 months ago
I give this Gig my "3 P" treatment and rating of Professional, Perfect, and Pleased. Thanks for the opportunity of conducting business with you through fiverr.
Reviewed by samuelrosettejr 5 months ago
Outstanding Experience!
Reviewed by dfraney2 5 months ago
Man, You Got Skills!
Reviewed by leninramos809 5 months ago
Highly Satisfied! I highly recommend his services. GREAT JOB!
Reviewed by marketingpurple 5 months ago
Excellent job! His very first recording was perfect. You will be glad you chose this one.
Reviewed by cowboy713 5 months ago
Awesome commercial, THANK YOU!!
Reviewed by phoebesgarden 5 months ago
Outstanding Experience! Highly recommended
Reviewed by livingbycoupons 5 months ago
What a terrific gig! He is very professional and I will be coming back for more work.
Reviewed by thweatherford 5 months ago
Delivered as promised
Reviewed by dptrkn1 5 months ago
Brilliant, thanks for your help, will be back.....
Reviewed by mbirkhead 5 months ago
Greetings! I'm William Craig, III.
Producing radio shows, and commercials is what I do for a living. Since joining Fiverr, I've produced nearly 2,000 commercials and helped clients on six continents get more traffic, sales, and memberships!
I look forward to helping you, as well!!!
Here are the facts:
A great commercial can help boost sales, or memberships, and grow your list!
Over 90% of your target market listens to the radio on a daily basis...either Internet radio, traditional radio, or both!!!
You need to be advertising where your "buyers" are!
Listen, the best part about this gig (besides the price) is, I do all of the work for you! Once you place your order, I will professionally write your script, add the appropriate soundtrack, record your commercial, package it in MP3 format (or.wav - if you prefer) then digitally deliver the finished product to you! It's that simple!
***PLEASE NOTE***: I do not do commercials promoting Alcohol; Tobacco; Drugs; Gambling; Psychic; Tarot; Porn; Profanity; Nudity; Adult Content; or Astrology. NO exceptions!